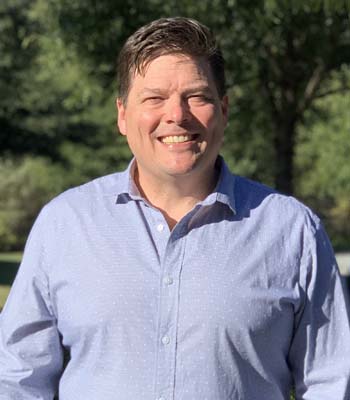 Rod Zwemke
Lead Pastor
In 2001, Rod left a career in engineering to pursue ministry full-time. After getting a seminary education and serving on a large church staff, God gave Rod this crazy idea of starting a church from scratch and Crossroads Church was born. He has been married to his wife Gabrian for over 20 years and has three kids involved in almost everything. His passions include sharing Christ, buffalo wings, teaching God's Word, football, family, basketball, and writing (in no particular order).
Corey Sargent
Executive Pastor
Corey was raised in church and was saved at an early age. In 2009, he married his wife, Anna, and started a small business. They have two boys, Grant and Wyatt. Corey served for three years as an elder at Crossroads, and has been a part of several ministries. Corey has a Biblical Studies degree from Faith Bible Institute. Corey enjoys spending downtime with his family camping, and playing basketball with his boys.
Jeff Brookshire
Pastoral Care Pastor
Jeff is a Yankee from the great state of Indiana. He has been married to his always-increasing-in-beauty wife, Jill, for over 30 years and have three grown children (Chelsea, Trevor and Melanie). Jeff is a graduate of Purdue University and Duke University. In addition to serving as Teaching Pastor and Elder, he works full-time at LHC Group Hospice as the Director of Bereavement and Chaplain Services, loves watching sports (yes, NASCAR is a sport!) and hanging out with Jill.
Meghan Sabin
Office Administrator
Meghan grew up a "navy brat" in Scotland before returning to Virginia Beach in her teens. She graduated from Old Dominion University with a Masters in Psychology. She married her high school sweetheart, Brian, and they have 3 children together (Dia-18, Genna-16, Brayden-13). Meghan and her family began attending Crossroads in 2013 after moving to GA. When not chauffeuring her kids to activities, she enjoys fitness, reading and hanging with her husband.
Bethaney Tully
Children Director
Bethaney Tully has always loved being involved in children's ministry. Her mom ran the children's department at her church growing up and she loved getting to help her out and just seeing how much of an impact she made every Sunday! Bethany is an avid reader, loves to play video games, and loves to spend time with her husband Zack and baby girl Remi.
Wright Humble
Groups Pastor
In 1999, Wright discovered that anything was possible when he was fortunate enough to marry his best friend, Kristie. Since then, they have made a lifetime of memories together with their two daughters, Lauren and Grayson, and their son, Jackson Wright. By the fall of 1992, God's call was clear. Wright devoted his life to whole-heartedly pursuing that call. After graduating from the University of Georgia, he earned a Master's of Divinity degree with a specialization in leadership from New Orleans Baptist Theological Seminary. He has served the Lord through the local church for over 30 years!
Wright's passion is his family and exploring the unlimited facets of God's grace! He enjoys writing and producing songs and UGA football. Unfortunately however, he spends most of his free time spreading mulch and knocking down weeds… but she wanted the corner lot!